Nearly all the photography on this site is available for licensing.
Each photo will have its availability and pricing listed below it.
Photos can be located through categorized galleries and portfolios, or keyword search by title (e.g. Vineyard Road), location (e.g. Santa Lucia Highlands or Monterey County), or year the photo was taken (e.g. 2009). Or you can just contact us, let us know what you're looking for, and we'll email you a proof sheet of images to select from.
Licensing available for social media use up to 1 year: $25; websites, videos and digital presentations: $50; and print up to 500,000 impressions no larger than 12×12 inches: $100. Read the full licensing agreement.
Bundle licensing for social media, website, and print up to 500,000 impressions: $135 (save $40!). Just add all 3 license levels to your shopping cart and you will receive a rebate on your purchase. Extended licensing is available for larger projects and uses and will be quoted on a case-by-case basis. Please contact us with your project requirements. Read the full licensing agreement.
Once payment is received, you will be emailed a link within 24 hours to download an 800-pixel wide JPEG file for social media, 1920-pixel wide JPEG file for web, video, or screen presentation; and a full native resolution JPEG file for print.
Example: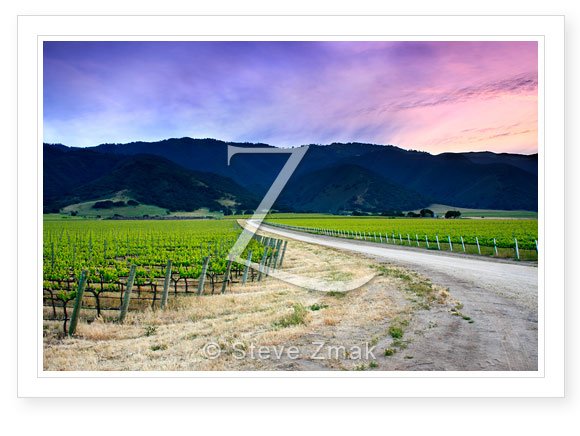 Vineyard Road • Santa Lucia Highlands, Monterey County, California • April 2009
A common scene playing out along River Road in the SLH as dozens of finger roads wind up the bench towards the Santa Lucia Mountains.
Product Code: Pessagno 090430-069
Available as numbered edition print for sale or commercial licensing.
Click on the price to add it to your shopping cart
12×18 paper print $200
12×18 paper print in 18×24 white mat $250
16×24 canvas print $300
24×36 canvas print $450
30×45 canvas print $600
Custom sizes and media available • Ordering Prints
Licensing available for Social Media $25
Licensing available for Websites $50
Licensing available for Print runs up to 500,000 copies $100
Read the full licensing agreement
Single Color Notecard A2 size notecard with white envelope $3
View Cart    Check Out